2019 Wikimedia Australia Community Conference
Line 31:
Line 31:
 
 
 

== Attendees ==

 

== Attendees ==

 
+
 

There were 24 registrations for the conference received via [https://www.eventbrite.com.au/e/2019-wikimedia-australia-community-conference-tickets-61669853191 Eventbrite registration].

 

There were 24 registrations for the conference received via [https://www.eventbrite.com.au/e/2019-wikimedia-australia-community-conference-tickets-61669853191 Eventbrite registration].

 

* '''Home Wikimedia''': Wikipedia (14); Wikidata (3); Commons (2); Wikisource (1); No account (1)

 

* '''Home Wikimedia''': Wikipedia (14); Wikidata (3); Commons (2); Wikisource (1); No account (1)
---
Revision as of 08:43, 28 July 2019
Saturday 15 June 2019
What is the Community Conference?
The Community Conference was run by Wikimedia Australia to showcase some of the exciting work that has been happening across the country, and to give our community the opportunity to contribute to the next stage of planning ongoing collaborations, what WikiClubs are doing, Wikimedia Australia's future directions, how we can better engage with each other, our region: ESEAP (the East, Southeast Asia, and Pacific), and the wider Wikimedia movement.
Programme
Community members were encouraged to suggest areas of interest and volunteer to present. Five lightning talks were presented, and three workshops.
The full programme with linked presentations is available at Community Conference Schedule
The Conference was live streamed and can be viewed on the Wikimedia Australia channel.
The Conference used the Twitter hashtag #WoW2019
Invited speaker
Our special guest speaker, Ingrid Cumming, is a Nyungar yorga who was part of the research team that developed Noongarpedia including the nys.wikipedia. Ingrid is now the Indigenous project co-ordinator for the City of Canning, Western Australia. From her experience in working with Wikimedia Australia she invited WMAU to collaborate with the City of Canning on a digital heritage project. She will share her insights on these projects and how to engage and share in a respectful way with Indigenous knowledge.
Wikimedia Australia acknowledges the generous support of the City of Canning for Ingrid's attendance at the Community Conference.
Venue
The University of Sydney, Old Teachers College building (opposite the 1993 Education Building), Room 329.
Room 329, building opposite the Education Building, The University of Sydney, Manning Rd, Camperdown NSW
The University of Sydney kindly provided us with a space, and the necessary facilities to host the event.
Attendees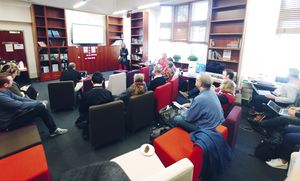 There were 24 registrations for the conference received via Eventbrite registration.
Home Wikimedia: Wikipedia (14); Wikidata (3); Commons (2); Wikisource (1); No account (1)
Age: 21-30 (2); 31-40 (11); 41-50 (2); 51-60 (3); 61-70 (4); 71- (2)
Gender: Female (10); Male (14)
State: ACT (1); NSW (9); NT (1); QLD (2); VIC (4); WA (5); International (2)
Background: GLAM (6); Education (3); Other (15)
At registration nine attendees expressed interest in presenting a lightning talk at the conference.
Contact
For further information on this or future community conferences contact us at contact

wikimedia.org.au
See also