Meeting:2019 AGM
Jump to navigation
Jump to search
← [[Meeting:Expression error: Unrecognized punctuation character "{". AGM|Expression error: Unrecognized punctuation character "{".]]
[[Meeting:Expression error: Unrecognized punctuation character "{". AGM|Expression error: Unrecognized punctuation character "{".]] →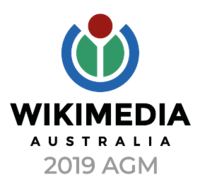 The AGM will be on Sunday 25 August 2019 at 3pm WA / 4.30pm NT & SA / 5pm ACT, NSW, QLD, TAS, and VIC.
The Meeting will be held on Skype. Contact secretary@wikimedia.org.au to register attendance and provide skype name.
The scope of the meeting is to receive the annual reports from officers of the association, and announce the results of the ballot for the management committee for the upcoming year.