Support Wikimedia Australia by becoming a member today! Membership is AUD$40/year (AUD$20/year concession).
Benefits of becoming a member include:
Before you join you may be interested in reading our rules and especially our Statement of Purpose.
How to become a member of Wikimedia Australia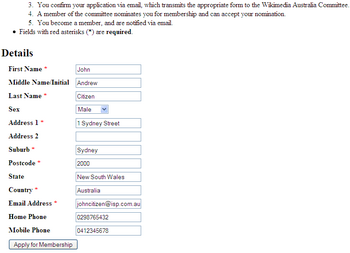 Fill out and submit the registration form at the Member Database. Be sure all the submitted information is correct.
You will receive a confirmation email with the subject Application for Wikimedia Australia Membership asking you to confirm your email address by clicking a link.
After you confirm your email address, your application is then sent to the committee for approval. (This should normally take around three working days.)
If your application is approved, you will receive another email with the subject New Wikimedia Australia Membership Status: Pending - Pending. This email contains information about how you pay your membership fees at the relative rates - (AUD$40/year, AUD$20/year concession).
Once the secretary confirms that your payment has been received, your new membership status will be Member - Ordinary Member. You will receive a confirmation email to inform you of the status change. The secretary will automatically add you to the members mailing list unless you request otherwise. The email address you provided will be the primary method of contact regarding all Wikimedia Australia meetings and other events, unless you inform the secretary otherwise.
Payment methods
At this time, the available payment methods are listed below. Further payment types may be added at a later stage.
Direct Deposit (highly preferred)
Cheque or Money Order
If you pay via international tranfer, our SWIFT Code is BENDAU3B. Please add [w:AUD|AUD]]$2 for the bank fee.
Problems?
If at any time you have problems or you want to ask about the progress/status of your application, please contact the Secretary at secretary

wikimedia.org.au.