Membership
For a condensed membership page suitable for printing to give out at events see Membership/handout.
Support Wikimedia Australia by becoming a member today! Membership is AUD$40/year (AUD$20/year concession).
Benefits of becoming a member include:
Before you join you may be interested in reading our rules and especially our Statement of Purpose.
How to become a member of Wikimedia Australia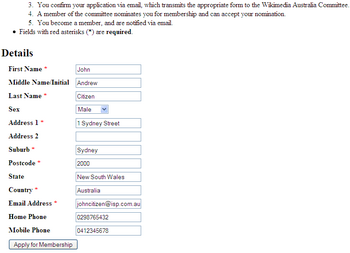 Fill out and submit the registration form at the Member Database. Be sure all the submitted information is correct.
You will receive a confirmation email with the subject Application for Wikimedia Australia Membership asking you to confirm your email address by clicking a link.
After you confirm your email address, your application is then sent to the committee for approval. (This should normally take around three working days.)
If your application is approved, you will receive another email with the subject New Wikimedia Australia Membership Status: Pending - Pending. This email contains information about how you pay your membership fees at the relative rates - (AUD$40/year, AUD$20/year concession).
Once the secretary confirms that your payment has been received, your new membership status will be Member - Ordinary Member. You will receive a confirmation email to inform you of the status change. The secretary will automatically add you to the members mailing list unless you request otherwise. The email address you provided will be the primary method of contact regarding all Wikimedia Australia meetings and other events, unless you inform the secretary otherwise.
Late joiners
The committee approved the following motion at the March 2009 meeting:-
That members joining and paying a subscription after 1 April in any financial year, be fully paid up until the end of the following financial year.
The purpose of this motion is give a concession to those joining late in the financial year. Anyone who joined between April 1 and June 30, 2009 will be covered until June 30, 2010.
Renewal of membership
Membership renewal is due by July 1, 2009.
If you have any questions, please email the Treasurer at treasurer

wikimedia.org.au
How to renew
Simply make a payment (according to Payment methods) with a comment including your name and if there is room, also the word "renewal", and also email the treasurer (treasurer

wikimedia.org.au). It's not necessary to do anything in memberDB for renewing.
Payment methods
At this time, the available payment methods are listed below. Further payment types may be added at a later stage.
Direct Deposit (highly preferred)
Cheque or Money Order
Paypal
Cheques and money orders
Should be sent to:
Wikimedia Australia, Inc.
PO Box 114
Sorrento, VIC 3943
Australia

With an accompanying note mentioning your name, email address and the purpose of the payment (e.g. joining, renewing).
Direct deposit
Bank details:
BSB: 633-000
Account No.: 134821859
Account name: Wikimedia Australia Incorporated
Paypal
If you wish to pay via credit card or Paypal (http://www.paypal.com/), our account is <treasurer

wikimedia.org.au>. You can also email this address to get a Paypal payment request, which can be paid via Paypal account or credit card (a Paypal account is not necessary).
Problems?
If at any time you have problems or you want to ask about the progress/status of your application, please contact the Secretary at secretary

wikimedia.org.au.