Past Partnerships

Wikimedia Australia works with a wide range of organisations across Australia. Partnerships have included edit-a-thons and training, both in person and online, and our Wikimedian in Resident program. See a list of Current Partnerships and read more about the Wikimedia Resident and Scholar Program.
If you're interested in discussing a partnership opportunity contact us anytime at: contact@wikimedia.org.au
Past Partnerships
Australian Society of Archivists
Australian Library and Information Association
Librarian training and workshops
City of Canning
Digitization of Local history collection
Noongarpedia
City of Fremantle
Freopedia QRpedia project, c.2012, in collaboration with the Fremantle Society and the Fremantle Business Improvement District (BID).
Franklin Women
Edit-a-thon for women in health and medical research
GLAM Peak
Wikimedia Australia was a technology partner for the 2017-2018 GLAM Peak regional Digital Access to Collections workshops.
Museum of Perth
National Library of Australia
Wikimedia Australia was represented on the Trove Consultative Committee 2018-2020 by President, Pru Mitchell
Paralympics Australia
Seniors Recreation Council of WA
Have a go day
Be Connected
Shire of Toodyay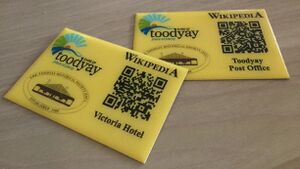 Toodyaypedia WikiTown project involved creating articles and placing QR codes on landmarks in the Western Australian town, in collaboration with the Toodyay Historical Society. In 2014, seven Wikimedians travelled by bus from Perth to Toodyay to prepare for WikiTown Toodyay.
Read an account of their work. The project was Australia's Cool Project presented at Wikimania 2014.
State Library New South Wales
State Library of New South Wales events
State Library of Queensland
State Library Queensland events
State library of Western Australia
WikiClub West space and workshops
State Records office (Western Australia)
Knowledge and records access
The University of Sydney
Worlds of Wikimedia Conference
The University of WA
Women's Art Register
Western Australia
Digitisation project
Yarra Plenty Regional Library