Wikiclub NT
How a Wikipedia club added NT history online
, James Gaunt.
The township of Alice Springs on Arrernte country in Central Australia was born when a repeater station was built alongside a spring in the now Todd River, traditionally called Turiara. The station formed part of the Overland Telegraph Line, which connected Australia to the rest of the world for the first time in 1872.
But if you'd searched online as recently as 2016, you'd have struggled to discover that history. There wasn't even a page about the Alice Springs Telegraph Station.
Wikipedia had a problem. Northern Territory people, places and histories were essentially absent. While Western Australia had more than 10,000 pages dedicated to it, the NT had only 1700 pages at the time.
Former ABC journalist and producer Caddie Brain and historian Jared Archibald, the Territory History curator at the Museum and Art Gallery of the Northern Territory, decided to do something about it.
"Most people knew what Wikipedia was and had used it," Archibald said. "The biggest thing we struck was to do with NT history. There wasn't any information on there, and that's what Wikiclub NT was all about. "
With the support of Wikimedia Australia and a Northern Territory Government History Grant, Brain and Archibald hosted an outback Wikitour and monthly edit-a-thons over two years to train locals to put their history, stories and knowledge on Wikipedia.
"Territorians are mad about their history," Brain said. "The Northern Territory is home to some of the oldest living cultures and languages in the world. They're the kind of stories that shake up our whole idea of what Australia is and its so-called 'discovery'. In many remote places people are the history."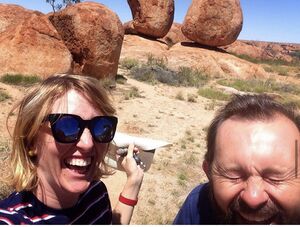 Hitting the road, Brain and Archibald held the first-ever workshops in Alice Springs, Katherine and Tennant Creek, hosting themed monthly meet-ups at Northern Territory Library.
"We developed this beautiful community of local editors," Brain said. "And we sure drank a lot of tea."
"But it wasn't always easy. Making the case for notability of outback characters is often challenging and even more so for women and First Nations people, who just aren't written about and recognised in the same way as men."
Cissy McLeod, for example, was the first Indigenous woman in Australia to receive a bronze medal from the Royal Humane Society for her act of bravery, after saving her adoptive mother when she fell off the wharf in Darwin in the Northern Territory of Australia. A fierce debate kicked off claiming she was not notable, despite the many pages of colonial men who won the same medal for similar acts.
"This is a person who made newspapers nationally at a time when that was itself remarkable," Brain said. "If an Aboriginal woman from this period was so noticeable to be in multiple national newspapers in a segregated and colonial society, if she cannot be considered notable, then Wikipedia will continue to have few women or First Nations people. It's critical we fight for these stories."
Cissy's page has now been viewed almost 3000 times and edited over 100 times. Illustrating her page are two photographs, including one of Cissy McLeod receiving her medal for bravery at Palmerston Town Hall in 1913.
Access to the Northern Territory Library's collections enabled the uploading and populating of historical images to support the 135 new pages created through Wikiclub NT, including Cissy McLeod's.
While the club last met in 2018, it contributed to the doubling of pages about the Northern Territory on Wikipedia over its two years of activity.
Since starting Wikiclub NT, Caddie Brain is now Executive Officer at Wikimedia Australia and has been organising edit-a-thons all across Australia. But she says NT history is still an important part of her work.
Jared Archibald has continued his work with the Museum and Art Gallery of the Northern Territory, but said he still has fond memories of Wikiclub NT and what they achieved.
"The project was fantastic and I think it could work anywhere in Australia, with clubs that go out and train people how to do new stuff on wiki and then fix wiki to make it into something that is valued, but also accurate, that people trust."
Highlighted pages
Further reading