James Gaunt on twelve weeks with the Australian Music Vault
James Gaunt was recently Wikimedian In Residence at the Australian Performing Arts Collection (APAC) and Australian Music Vault (AMV) in the Arts Centre Melbourne. Over twelve weeks he created new Wikipedia pages, ran training sessions, and facilitated new image uploads. Below he reflects on his time among the collections at APAC.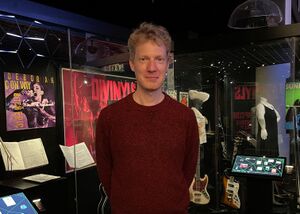 Between July-September this year as Wikimedian In Residence I visited the Australian Performing Arts Collection (APAC) once each week for twelve weeks to explore and use their collections.
The team from APAC and AMV have closely supported The Record: Australian Music On Wikipedia, a series of music related edit-a-thon events run in partnership with Australia Council for the Arts, and this residency expanded on The Record's theme of adding more Australian music content to Wikipedia.
Before the residency began we mapped out our goals to create 10 new Wikipedia pages based on the APAC collections, run four training sessions for the Arts Centre staff, and upload new images to Wikimedia Commons.
Documenting the APAC exhibitions and collections
APAC on Wikipedia
When I began the residency the APAC Wikipedia page had some issues. It didn't have the full organisation name, had no references, and was fairly barren in terms of information. You can see that previous version here.
Using books in APAC's library I was able to create an expanded section on the history of APAC, as well as a new Wikipedia article listing every APAC exhibition starting in 1981 when they were known as the Performing Arts Museum.
Unfortunately not all of the dates were recorded in the references I had at hand, but I was able to find several exhibition listings in old newspapers archived online in Trove.
The exhibition list is a work in progress, with further dates still to be added, but it is already a fantastic resource and provides a deep overview of APAC's exhibition history.
Building on this, I was able to expand the Wikipedia page on Australian musician Nick Cave to include APAC exhibitions alongside his other exhibitions held overseas, and noted APAC held his personal collection.
Listing APAC's collections
A second list, featuring every collection held by APAC, was drafted but hasn't been published yet. This became a great challenge as I sought to better document the various people and institutions with their collections and archives held at APAC. I wanted to describe the collections beyond a simple list, but this requires secondary sources and referencing that was extremely difficult to find.
You can see the current draft here which unfortunately relied too heavily on references from APAC itself.
I took inspiration from similar Wikipedia pages like this List of works in the Museum of Modern Art, the List of vehicles at the National Motor Museum, Beaulieu, or the List of aircraft in the Smithsonian Institution. These mostly rely on primary sources, but don't describe the collections in detail like I had tried to do.
My ambition behind creating these list pages is to help future researchers. Not every collection held by APAC is listed on their own website, and a complete list of their exhibitions wasn't available publicly either.
New pages on Wikipedia
As Wikimedian In Residence I created the following pages using the collections at APAC. Several collections included scrapbooks of newspaper clippings so I was able to find references that weren't otherwise available to me. I supported these with books in their extensive performing arts library, and occasionally by searching Trove and other online resources.
Pages created
Existing pages updated
New images
I had hoped to upload images from the APAC and Arts Centre Melbourne collections, but this became tricky in the small time I had due to licensing and copyright concerns.
Instead, during a training session on how to upload images to Wikimedia Commons I uploaded photos taken at APAC and staff uploaded their own photos too. Some other images relating to early Australian jazz musician Grace Funston were able to be included due to being in the public domain.
Select Gallery
Training sessions
During the second half of my residency, I ran four training sessions for the Arts Centre staff on Wikipedia, Wikidata, and Wikimedia Commons.
The content in these sessions was based on our GLAMR Training program which is available for everyone here.
I introduced what Wikimedia Australia do, and the many projects around the world that have included Wikipedia inside of galleries and museums.
At the end of these sessions, everyone was able to edit Wikipedia, add new references, upload images to Wikimedia Commons, and had a better understanding of how to use Wikidata, a website for open metadata which is connected with Wikipedia.
Stats - Two months later
The new pages and images have now been online for over two months, and are already being seen.
Between 1 July and 30 November, all ten of the new Wikipedia pages were viewed a total of 2,522 times and edited by 27 different users. You can compare their stats here.
The five most popular pages from this period were:
Summary and further work required
At the end of my twelve weeks at APAC, I had created new pages, uploaded images, and trained staff on how to contribute to Wikimedia's projects. This included adding over 24,000 words and 289 references to Wikipedia.
I was generally able to create a Wikipedia page each day I was there, and I would often be working on two at a time, while also editing others with the information I found in the collections.
But while that sounds like a lot, there was more I'd have liked to do if I had more time.
To better assist future researchers on Wikipedia and elsewhere, further work can be done to make information about APAC's collections easier to find.
This could include creating categories on Wikipedia for people who have their archives in APAC, similar to this one for DePaul University Special Collections and Archives holdings.
But not everyone has a Wikipedia page yet, so to make these categories truly useful more work needs to be done creating new Wikipedia pages, and tapping into the APAC collections to do it.
It's slightly easier to add things to Wikidata, and I began linking people on Wikidata to APAC using the 'archives at' property. These can be seen as a list of items linked to APAC on Wikidata which include AC/DC, Nick Cave, and Big Day Out, among others. Each of these uses a reference linking back to the APAC website too.
Not everyone represented in the APAC collections has the 'archives at' property on Wikidata yet, but it's possible a spreadsheet could be created to mass import these. That will require further exploration.
While there's always more to do, I had an amazing and productive time at APAC. The staff were all lovely, and Carolyn Laffan from The Australian Music Vault and Claudia Funder from Collections were extremely welcoming and supportive of me using their collections to improve Australian music content on Wikipedia.
External Links