WikiD Writing Workshop held in Melbourne
Jump to navigation
Jump to search
, Michael B.
Originally published at http://blog.wikimedia.org.au/2015-09-wikid-writing-workshop-held-in-melbourne/
image: /wp-content/uploads/2015/09/WikiD_Logo.png
A Wikipedia workshop was held at Monash University in Melbourne, as part of the WikiD project.
> WikiD: Women, Wikipedia, Design is an international education and advocacy program working to increase the number of Wikipedia articles on women in architecture and the built environment. The project includes running writing and editing workshops in Melbourne, New York and Berlin and providing architecture-specific guides that build on existing resources.
Wikipedia:Wikiproject_Women_Wikipedia_Design
22 participants registered, and around 20 were able to attend on the day. Two Wikimedia Australia members were also on-hand to train the attendees on the ins-and-outs of editing Wikipedia.
The next event is currently being planned, and will be held next month.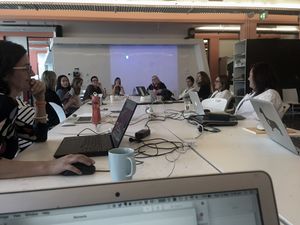 Project pages