Wikipedian Ann Reynolds recognised for closing the gender gap on Wikipedia
Wikimedian Ann Reynolds receives a 2021 EDNA Award for Community Activism.
, Caddie Brain.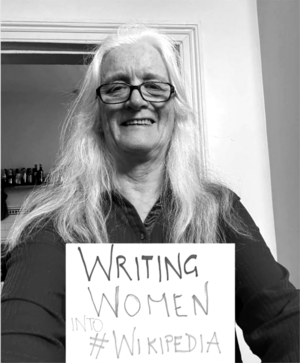 Renowned Australian Wikimedian Ann Reynolds has been announced as the recipient of a 2021 EDNA Award for Community Activism.
The awards honour Edna Ryan, a life-long feminist, labour movement activist, and mentor and role model for a whole generation of women. The awards, which recognise women who have "made a feminist difference", were established in 1986, the year following her death.
Passionate about closing the gender gap on Wikipedia, Reynolds began editing in 2017, and has since created over 330 Wikipedia articles about women.
She has also run Women Write Wiki, a women's Wikipedia editing group since 2018. The group meets twice each month either online or at The Women's Library in the inner-Sydney suburb of Newtown, with the initial aim to write about Australian women authors represented in the library.
We asked Ann about her experience and reflections on winning this prestigious award.
How do you feel about winning the award?
It's an incredible honour to have my Wikipedia work recognised with a Community Activism award at the 2021 EDNAs. Edna Ryan was an amazing woman of incredible drive and determination. Making a feminist difference is still so important. What did you make of the event?
I'm an introvert so I was quite happy to be represented only by photos on the night. I'm looking forward to the February panel session with some trepidation as I may be alongside Brittany Higgins, who won a Community Activism award as well as being named 2021 Grand Stirrer. She spoke so impressively at the Award Ceremony. I attended the 2017 and 2018 award ceremonies at Sydney Trades Hall so I do know how I may have been feted in non-COVID times. That said, there were 28 of us and, allowing each winner to speak for 5 minutes, plus introductions etc. would have taken far too long even with a firm timekeeper!
Why is women's representation on Wikipedia so important?
Women need to be represented on Wikipedia both with bios and as editors. As at 1 December 2021 only 19.08% of bios on English Wikipedia are about women.
Google uses information from Wikipedia in its search results. If notable living women are not written into Wikipedia they are not so easily found. I am thrilled when I see near parity in Australian awards and fellowships in 2021 as they are important in ensuring women's notability for Wikipedia.
When it comes to the Australian Dictionary of Biography, there are still plenty of notable women waiting to be written about. For example, WWI nurses who were awarded the Royal Red Cross; women who spent their lives running clubs and associations and doing good in the community both hands-on and through philanthropy.
While my username, Oronsay, does not disclose me to be a woman, I openly tweet my new articles as @annreynolds988 so anyone who follows me on Twitter would know.
Are you optimistic about how things are going there?
Yes. And I encourage all editors who are keen to write about women to join the Women In Red project on Wikipedia. They're a great mob of men and women who work tirelessly to address the gender gap. Ask for help on the WIR Talk page if you get stuck. Also, they have annual topics/occupations to write about and also monthly ones. And if you like competitions, Women in Oceania, is on until the end of 2021 and there are plenty of Aussie names on the redlist.
There is, however, a considerable need for ongoing maintenance of articles. Articles tagged for the Australian project that have issues may be found on its clean-up list help with this work. It's a handy list to use during the #1Lib1Ref campaigns each year.
What are some recent pages you've worked on that you think are most interesting?
Congratulations Annie!