A useful tool to find and add Australian references to Wikipedia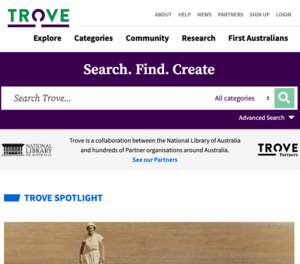 Trove is an Australian website run by the National Library of Australia and several partner organisations.
It allows you to search for physical copies of items held at libraries and archives around Australia, and is a great way to find whether your local library has a particular book.
Trove also holds digital copies of newspapers, government gazettes, maps, magazines and newsletters, and links to pictures, photographs, music, and archived websites.
Launched 14 years ago, Trove has become an incredibly important tool for researchers internationally thanks to the treasure of information it makes available.
It is also heavily used by Wikipedia contributors, with Trove/National Library of Australia in the top 15 most referenced domains on English Wikipedia in 2018.
Searching the past on Trove
Trove has a large archive of digitised content that is searchable thanks to the hard work of volunteers who have added and corrected text in old newspapers and magazines.
Searching for Australian jazz musician Don Burrows brings up 2,271 newspaper results, including this 1993 article from The Canberra Times which mentions that Burrows' career began at age 14.
Looking at Don Burrows' Wikipedia page there were no references about his career starting at 14, but thanks to Trove this can be easily added.
Because it's so easy to use, many people use Trove as their first search when looking for Australian content.
There are Australian newspapers from 1803 to 2021 and twenty years of archived Australian websites too, capturing a detailed history of Australian media.
Trove and Wikipedia
Between 2012 and 2013, Trove and the State Library of New South Wales ran a project to create Wikipedia pages for Australian newspapers and add links back to Trove, with assistance from Wikimedia Australia.
Descriptions from these Wikipedia pages were then integrated into pages on Trove, such as The Uralla News (NSW : 1904 - 1907).
One outcome of adding more links was an increase in traffic from Wikipedia to Trove, with approximately 10,000 links on Wikipedia to Trove newspaper articles as of September 2013.
There are now 18,117 links to Trove on English Wikipedia and over 60,000 linking to the National Library of Australia, which includes newspaper articles on Trove. (Note: External links search is limited to 60,000 links so the true number is larger as noted in 2018.)
Thankfully, adding references from Trove to Wikipedia is very easy because each page allows you to cite it using Wikipedia's style guide. Or just paste the link into Wikipedia's automatic citation generator.
Wikimedia Australia regularly highlights Trove as an excellent resource for people contributing to Wikipedia and we're thankful it exists.
Whether you're looking for a book from your local library, a digital copy of a newspaper, or perhaps just some old knitting patterns, Trove has become one of the most powerful tools in Australia to help you find what you need.
External Links