Back to AGM.
See Checking membership status for how to figure out if you are a financial member or not!
You can vote multiple times, but only your last vote counts. So any new votes you do just overwrite the previous ones.
1. Go to [url]. Request a new password by clicking on Forgot your password? and inputting your email address.
2. Click on the Elections link the left menu.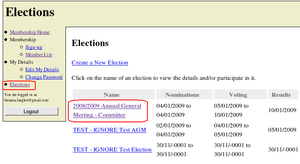 3. Click on the first link that says 2011 Annual General Meeting - Committee.
4. You will get a summary of the times different aspects of the election are open. If Voting is open, click on Voting.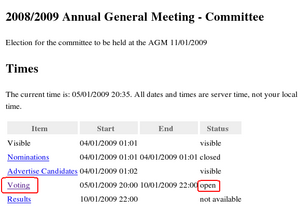 5. At the bottom of the page will be a link saying Vote Now! - click on it.

6. The election form looks like this: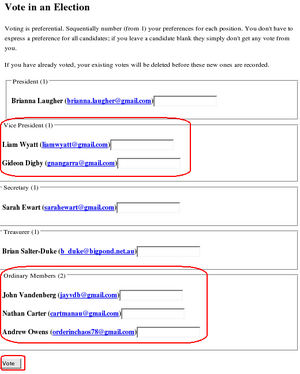 You only need to fill out the sections for Ordinary Members. It is optional preferential voting. This means, when there are three candidates, you can fill out 1, 2, 3, or just 1, 2 or even just 1.
You can vote for the other positions, but it won't make any difference to the result. :)
After voting, click the Vote button at the bottom to submit.
7. If successful you get a notice like this: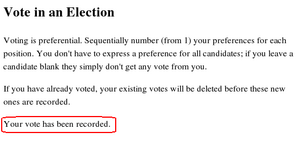 You also get an email confirming you have voted.
The secretary also gets an email of your "vote record", but this is only a record that you did vote, not what your vote actually was.
Back to AGM.