Wikimedia Australia is the Australian chapter of the international Wikimedia Foundation.
We support people and organisations to contribute to Wikipedia, Wikidata and other Wikimedia platforms through events, training and partnerships.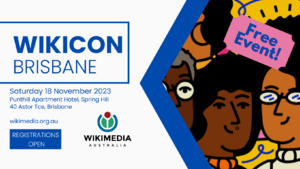 Join us at WikiCon Brisbane on Saturday 18 November 2023. It's free!
WIkiCon 2023 Brisbane
Latest News
29 November 2023
Our latest newsletter
27 November 2023
Celebrating the 20th anniversary of Wikisource
15 November 2023
Applications close December 15, 2023
Read more on our News page, or subscribe to our mailing list and follow our social media for updates.