2009-2010 AGM/Secretary's Report
< 2009-2010 AGM
(Redirected from 2009-2010 AGM/Secretary report)
Memberships
This year the chapter's membership has grown from 36 financial members to 47. However, we have also seen 23 2008-2009 financial members lapse (failure to pay or arrange to pay 2009-2010 fees prior to 20 November 2009) and two have asked to cancel their memberships. Membership retention will be a key challenge facing the chapter and future committees.
Gender distribution
The chapter's membership has seen an increased proportion in female members from five members in 2008-2009 (representing 13.9% of the membership) to 11 this year (or 23.4%). The number of men has also increased from 31 to 36.
2009-2010 Gender distribution
Male:      36     76.6%
Female:    11     23.4
Total      47     100.0%

Membership distribution by state and territory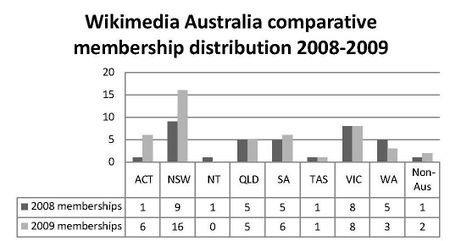 Membership numbers in New South Wales and the Australian Capital Territory have seen the largest growth in state and territorial memberships during the last 12 months. Membership in New South Wales has grown from nine members in 2008-2009 to 16 in 2009-2010 and membership in the Australian Capital Territory has grown from one in 2008-2009 to six in 2009-2010.
2008-2009 Memberships by state or territory
ACT	      6     12.8%
NSW	      16    34.0%
NT	      0     0%
QLD	      5     10.6%
SA            6     12.8%
TAS	      1     2.1%
VIC	      8     17.0%
WA	      3     6.4%
Non-Aus       2     4.3%
Total        47    100.0%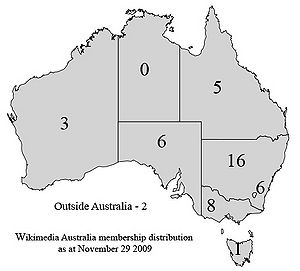 Timeline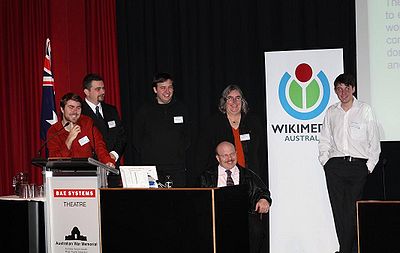 March 2008: The creation of the Wikimedia Australia chapter was approved by the Wikimedia Foundation Board of Trustees. [1]
21 April 2008: Wikimedia Australia held an incorporation meeting, agreeing to adopt certain rules and purpose.
6 August 2008: Our Rules were approved by Consumer Affairs Victoria and we were officially incorporated in the state of Victoria.
11 January 2009: Wikimedia Australia's first Annual General Meeting was held.
6-7 August 2009: GLAM-WIKI, the first national conference bringing together representatives of the Australasian cultural industries and members of the Wikimedia community.
Summary of meetings
The committee has held ten formal meetings and passed 29 resolutions in the last year.
Committee meetings
03 November, 2009
26 October, 2009
20 October, 2009
26 July, 2009
13 June, 2009
04 May, 2009
26 March,2009
15 February, 2009
08 February, 2009
15 January, 2009
Committee resolutions
AGM agenda approval
CiviCRM training
Fund-raising approval in different states
WMF chapter grants
Date of AGM
Gideon Digby as observer on the committee
Approval of stationery and merchandise expenses
Updating official-wiki license
Approval of GLAM bursaries
Payment of GLAM expenses up to $AU1,000
General approval for payment of GLAM expenditure
Authorisation to open a Paypal account
Extension of non-voting participatory members
Volunteer system administrator
Phorm optout
GLAM-Wiki budget
Duration of subscriptions paid after 1 April
Membership renewal discount
Regular web-hosting payments
Reimbursement of postage costs
Passing resolutions by wiki
Postal address for bank account
Expenses reimbursement update
Bank account signatories update
LCA Open Day, Wikipedia Day
Access to WMF Internal
Inviting non-voting participants to committee discussions
Payment of fees
Trademark