Adding Australian Music To Wikipedia
Increasing discoverability of Australian artists
Wikimedia Australia regularly runs free events showing how to add to and improve Wikipedia. Since December 2021 we have also run a series around adding Australian music content called The Record: Australian Music On Wikipedia.
This project is a partnership between Wikimedia Australia and the Australia Council for the Arts, with support from Australian Music Vault, Australian Music Centre, Country Music Association of Australia, APRA AMCOS, Surround Sounds, Geelong Regional Library Corporation, and Jaxsta.
Why this matters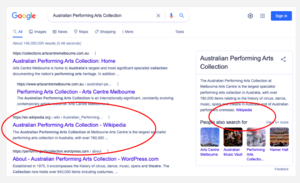 Wikipedia is the 6th most visited website in Australia, and 7th in the world. It's often first in search engine results, and as a free encyclopedia is one of the first places people look for information online.
It's also used by search engines in their information boxes on the side of search results, making it important to have relevant and up to date information available.
During 2021, Australia's music venues were closed, Melbourne's street press stopped being printed, and one of the only places to access information on music was the internet.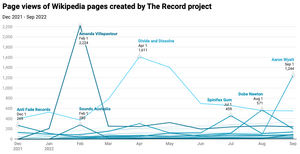 But if you searched for band Divide and Dissolve, National Indigenous Music Award nominee Stuart Joel Nuggett, or composer Robin Fox, none of these had Wikipedia pages.
After running four events participants created those pages and more, adding over 50 new Wikipedia pages which have been viewed over 35,000 times.
The Wikipedia page for Divide and Dissolve has been viewed over 7,000 times since it was created and averages over 600 visitors each month.
Our events & what we do
Between December 2021 and April 2022 we hosted four free events, two in-person and two online, showing people how to edit Wikipedia and create new articles about Australian music.
We provided lists of potential bands, labels, and organisations, as well as references to be used when writing or editing these pages.
At the end of each event, everyone had either created new pages or improved existing ones, and every participant went home with the knowledge to keep editing and creating new pages on Wikipedia.
The full list of new and improved Wikipedia pages can be seen here.
What's next & how you can you help
The Record project is not yet complete, and in 2023 we will announce more events to add even more new Wikipedia pages about Australian music.
If you would like to partner with us or learn more, please contact Wikimedia Australia: contact@wikimedia.org.au
You can also help by making sure information on our music is accessible. Wikipedia articles rely on references like interviews, articles, and reviews in newspapers, magazines, radio, etc. If you're a musician, keeping a record of your press and making it easy to find online is a great way help improve what's written about on Wikipedia.
You can also add images to Wikimedia Commons so they can be used on Wikipedia. Read our guide to Making Australian Music Visible here.
Select press
Further Reading
Banner illustration by Rubii Red.