Adding Citations to Wikipedia from Trove
A how-to guide
Trove is one of our favourite resources when looking for information on Australian topics.
References from Trove have been added to over 18,000 pages on Wikipedia, and it's easy to do.
Trove have their own guide to creating citations in different formats (including Wikipedia style), but we'll show you how to add them to Wikipedia below.
Using Trove's Citation tool
Almost every item in Trove has a handy citation option in its menu.
It looks a bit different for books and newspapers, so we'll look at both and then how to add them to Wikipedia.
Citing a book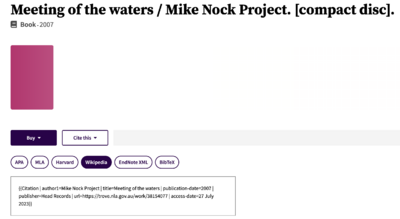 After you've found a book in the Trove catalogue, scroll down below the book title and click Cite this.
Then select Wikipedia.
A Wikipedia style citation will be displayed, and you can copy it to be used on Wikipedia.
Citing a newspaper article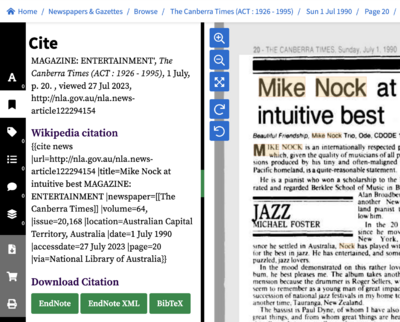 When you've found a newspaper article in Trove, on the left-hand side click the cite button
to open the Cite menu.
Scroll down to see the Wikipedia style citation at the bottom.
This can be copied to use on Wikipedia.
Adding the citation to Wikipedia
Now that you have a citation you can add it to Wikipedia.
Go to the Wikipedia article you want to add the citation to.
Click edit.
Use your mouse to select the area you want to add your citation to, such as the end of a sentence.
In the menu, click Cite. This button may also appear as quotation marks:
Click Manual and then click Basic
You can now paste in the citation you copied from Trove.
The citation will be converted to Wikitext and should look like the image below.

Click Insert.
Your citation has now been added to the Wikipedia article.
Click Publish changes.
Describe your edit, such as Added citation from Trove. Then click Publish changes.
Your edits have been published for everyone to see.
Congratulations! You've improved Wikipedia by using Trove!