First Nations Wikipedian in Residence
Improve First Nations music coverage on Wikipedia
, James Gaunt.
Do you have an interest in research? A love of music? Are you an Aboriginal or Torres Strait Islander person and want to learn how to add local music content to Wikipedia?
Wikimedia Australia (WMAU) and the State Library of Queensland have partnered to support a First Nations Wikipedian In Residence located in Brisbane, Queensland. Training will be provided.
This paid opportunity will allow one person to spend ten weeks at the State Library, using their collections to improve First Nations Australians content on Wikipedia as Wikipedian In Residence. The resident will be provided with a working space at State Library, research assistance from State Library staff, and training on Wikipedia and other Wikimedia projects from WMAU staff.
About the residency program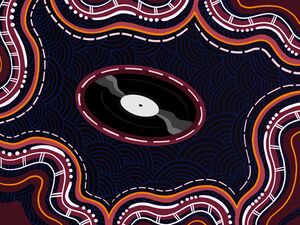 Since 2021, Wikimedia Australia has partnered with Australia Council for the Arts on The Record: Australian Music On Wikipedia, a project to increase the number of Wikipedia articles about Australian music. Recognising the complications around how Australian First Nations content sits on Wikipedia, the project has been extended to fund the First Nations Wikipedian in Residence program in 2023.
This is an opportunity for a First Nations Australian to improve and add to existing content on Wikipedia focused around music from Aboriginal or Torres Strait Islander people.
About the role
As the Wikipedian In Residence you will contribute to The Record. You will be improving Australian First Nations content on Wikipedia, specifically focusing on music related content.
You will be provided training to contribute to Wikipedia and Wikimedia Commons, and you will take part in delivering a First Nations edit-a-thon event where a group of people will edit Wikipedia together. You will author content for inclusion as blog posts for WMAU and State Library documenting your time as resident.
The successful applicant will be available to visit State Library in Brisbane, Queensland at least one day each week for 10 weeks. You will receive support from WMAU and State Library staff, including access to State Library's First Nation and library staff members, and a desk to work from at State Library during the period of your residence. Initial training on how to edit Wikipedia will be provided online, and additional on-going training can be provided in-person.
Some familiarity with Wikipedia and its policies will be required before commencing the residency. This will require reading on policies around notability, creating new articles about living people, using reliable sources, and copyright.
Please note this role is only open to Aboriginal and Torres Strait Islander peoples.
Duties and responsibilities include:
Identification of First Nations stories and content from the State Library collections
Contributions to Wikipedia
Edit or create at least 10 articles related to Australian First Nations music on Wikipedia or Wikimedia Commons
Facilitate one edit-a-thon to support editing of Wikipedia
Contribute blog stories to the State Library blog
Contribute one article to Wikimedia Australia's website about your experience
Share to social media once each week of residency
Write a report on your residency and what you learnt (1-2 pages)
Provide feedback on further improving Australian First Nations content on Wikipedia.
Selection Criteria
To be successful in this role you will be able to demonstrate some of the following capabilities as they apply to the duties and responsibilities of the role. Training will be provided as part of your residency and you aren't required to meet all of the below criteria.
You are an Aboriginal or Torres Strait Islander person
You are able to attend State Library of Queensland at least once per week for ten consecutive weeks
You can attend one day of online training before starting residency
You have access to a laptop
You can work independently
Experience using Wikipedia, Wikimedia Commons, Wikidata or other similar projects is desired
Familiarity with Wikipedia policies mentioned above is desired
Research skills are desired
Experience in teaching others and/or giving presentations is desired
Details on the residency
Reports to: James Gaunt, Communications and Project Coordinator – Wikimedia Australia
Period of Contract: 11 days in May and June 2023 (10 days at State Library, 1 day online training)
Grant: AUD$5,000
Location: State Library of Queensland, Brisbane, Queensland, Australia.
How to apply
To apply, please send your CV and no more than a two-page cover letter indicating your interest in the role and addressing the selection criteria. Please include a proposed start date and schedule.
All documents should be in one email as two separate documents (CV and cover letter): Send to: james.gaunt@wikimedia.org.au by Monday 6 March 2023 at 5pm AEST.