How To Join a WikiProject on Wikipedia
Find your community and join a WikiProject
, James Gaunt.

You can watch a video version of this article as part of our Wikipedia For Beginners series here.
WikiProjects are where groups of people can work together on a specific topic. This could be Australian biota, Australian music, jazz, cinema, football. Whatever you can think of, there's probably a WikiProject dedicated to it. Let's take a look at WikiProject Australia.
To find this project on Wikipedia, type WP:WikiProject Australia in the search box on Wikipedia, and click search.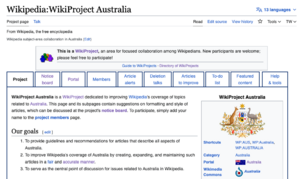 Exploring a WikiProject
On the WikiProject Australia page you can see the project's goals. There are also links at the top with a list of articles to improve, a to-do list, a notice board for discussion, and others.
Scrolling down, under sub-projects there is a table of the number of articles covered by this project, ranked by quality and importance. Because this is Project Australia, all of these articles are in some way related to Australia.
Articles rated as Start quality usually need more information or improvements like more references. As the article grows, its quality rating will be adjusted too.
You can see a list of all of the Start quality articles in WikiProject Australia by clicking the number under Total. It will take you here.
Back on WikiProject Australia, under sub-projects, there's also a list of other projects related to WikiProject Australia, for example WikiProject Australian Music. This is a similar project, with information on pages relating to Australian music.
There's also a list of members, where people have added their username and what topics they are interested in improving. You can add yourself to this list by editing the page, adding a # and clicking the signature button.
This will add your username. Click publish changes when you're done.
Join the discussion
If you want to talk to other people interested in this WikiProject, go to the Talk page. Click Talk at the top of the page, and then click Add Topic to start a new topic. You can also scroll down and reply to other conversations and messages already there.
Not every project is active, and even though WikiProject Australian Music has lots of members, they might not all be currently active, as people come and go.
But if you have a group of people wanting to work together, you could use a WikiProject to keep yourself organised. For example, if you have some friends wanting to work on Australian Music content, why not use the talk page on WikiProject Australian Music to coordinate your work, as it will allow others to join in too.
Finding a WikiProject
There are two ways to find WikiProjects on Wikipedia.
Using the Talk page
The first is to go to a Wikipedia article on a topic you're interested in.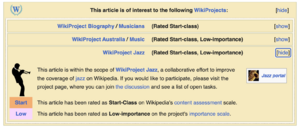 Let's look at this one about the jazz musician Freddy Logan.
Click on the Talk page, and above the discussion, you can see a box with WikiProjects this article is related to. There's WikiProject Biography, WikiProject Australia, and WikiProject Jazz. Let's look at WikiProject Jazz.
Just like WikiProject Australia, the WikiProject Jazz page has information on article quality, a list of members, and some suggested sources to help in your research. The Talk page is also quite active, and has several archives of previous discussions which can be browsed.
This would be a good place to get help if you're working on Wikipedia articles about jazz.
Browsing curated lists
Another way to find WikiProjects can be done by using the search box at the top of Wikipedia, and typing WP:Project.
This will take you to this page about WikiProjects where you can search for projects, or browse directories.
On the WikiProject page, click on the manually curated link to see this list of subjects. Then, if you want to find a project about music, you'd click music to find a list of music projects by genre, nationality, bands, etc. Clicking on any of these will take us to the project page and then you can join in their community.
If you can't find what you're looking for, you can also create your own projects, and back on the WikiProject page there is information on how to do that.
Happy editing!