Introducing: Wikipedia - Workshop and Drop In Sessions
Learn how you can contribute to (and improve) the world's largest free encyclopedia!
Starting in July, Wikimedia Australia will be hosting a monthly introduction to Wikipedia workshop, followed by a drop in session where you can ask anything.
Introducing: Wikipedia - A free online workshop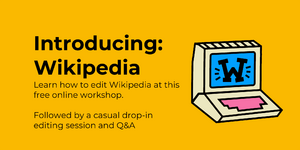 On Thursday 6 July at 1:30 PM AEST, we're running a one hour workshop so you can learn all about Wikipedia. Staff from Wikimedia Australia will show you how to edit Wikipedia, and discuss why it is so important, so you can join a global movement of contributors from around the world.
No experience is required, just sign up for a Wikipedia account ahead of time, register for the event, and join us online.
This Wikipedia workshop will then be repeated at the same time on the first Thursday each month.
Drop in and Wiki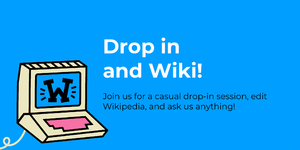 After learning all about Wikipedia, you're invited to stick around to ask us anything, as Wikimedia Australia's staff and volunteers will be available to answer questions about Wikipedia and other Wikimedia projects. This drop in session is open to anyone, with no bookings necessary!
Starting Thursday 6 July between 2:30-3:30 PM AEST, you're welcome to drop in anytime for a quick question, to share your work, or just to hang out and edit Wikipedia together for the hour.
If you've previously attended one of our workshops or editathon events, but need a quick refresh, this is a great excuse to ask questions and do some editing.
Event Registration
Bookings for the Wikipedia workshop can be made on Eventbrite. Just choose the date you want to attend.
For the monthly Drop in and Wiki session, find the Zoom link on the events pages below:
You're welcome to attend both events as often as you like.
For further information please contact Wikimedia Australia.