More Than A Day
A new series of video tutorials to get you started using Wikipedia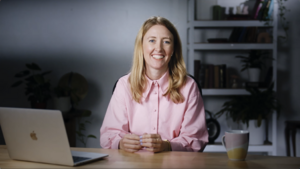 More Than A Day is a series of step-by-step tutorials to empower you to edit Wikipedia yourself.
Across 10 easy-to-follow chapters, Wikimedian Caddie Brain will talk you through the basics of Wikipedia.
Everything from creating an account, making edits on an existing page, or creating a new page.
Available to watch on YouTube, you can pause the tutorials and follow along as you make your first edits, then refer back whenever you need a refresher.
Franklin Women, a social enterprise that supports women in the health and medical research ecosystem, joined with Wikimedia Australia and The Leadership documentary film impact campaign, to create these tutorials that outline the steps to editing Wikipedia so more women and gender diverse people can add their contributions.
Wikipedia's gender bias
Wikipedia has a significant gender bias which influences the information we all call upon every day.
Despite women accounting for around half of the global population, only 19.6% of the almost 2 million English biographies on Wikipedia are about women. Women also account for only 10% of people who edit Wikipedia, despite it being open to anyone.
Franklin Women Founder Dr Melina Georgousakis said they wanted to create tutorials to give women everywhere the tools to add to Wikipedia.
"Over the years we have hosted Wikipedia edit-a-thons for the Franklin Women community to provide women in our sector with the knowledge and skills to edit Wikipedia. They have been successful at elevating the contributions of women in science online, but ultimately, these events are only one day," she said.
"This tutorial has come out of our desire to bring the same tools shared at our Wikipedia edit-a-thon's to women everywhere, so they can make edits to Wikipedia anywhere and anytime that suits them. By improving the diversity of wikipedia editors, we are ultimately making the internet a more equitable place."
Available to watch and share now
Hosted by Wikimedian, journalist, and technologist Caddie Brain, the video tutorials have been separated into 10 short chapters that can be viewed at your own pace.
Caddie Brain is an experienced Wikipedia editor who has previously run edit-a-thon's with Wikimedia Australia. In these videos she shares her expertise on everything from how Wikipedia works to setting up an account and making your first edit.
Released under a Creative Commons Attribution NonCommercial NoDerivatives 4.0 licence, the free tutorials are available to watch now on the Franklin Women YouTube channel.
External Links
This video resource was made by Franklin Women and The Leadership Film in partnership and consultation with Wikimedia Australia, supported by AbbVie and Good Pitch Australia, Shark Island Institute, Documentary Australia Foundation, and our Good Pitch donors.