Now Posting On Threads
There's another way to follow us on social media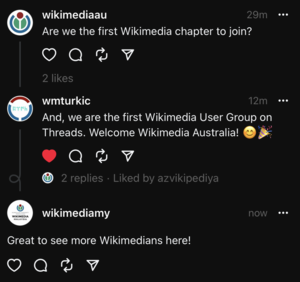 Wikimedia Australia has joined Threads, the new social media platform from Instagram.
You can follow us at @wikimediaau and we'll be sharing more content there soon.
Don't worry! We haven't abandoned Twitter. We're also still posting on Mastodon, Facebook, and LinkedIn.
We'll continue to post across all of our platforms, to share the fantastic work being created by our community.
It's not just us on either, as several Wikimedia chapters and projects have begun to share content across multiple platforms to reach the wider community.
You can see a list of all Wikimedia chapter social media handles here, and Facebook accounts here.