Social Media Stats 2022-2023
Wikimedia Australia's social media stats are growing!
July 1 marks the start of the financial year for Wikimedia Australia, and the perfect opportunity to look back at some stats.
At the end of each month I gather social media metrics from across our accounts for presentation to our board, and the end of the 2022-2023 financial year means we now have 12 months of stats to compare with our previous year, and can see if we've met our goals.
Communications Strategy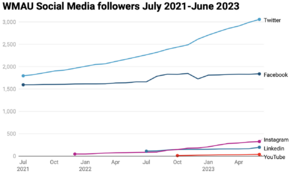 Our Communications Strategy lays out some of our targets up to now. These included restarting our Instagram account, celebrating our community, sharing community content, and sharing tips for Wikimedia projects.
We are currently updating this document for 2023-2025, but here's a look at how we've met those goals so far.
We relaunched our Instagram account in December 2021, and gained 326 followers by July 2023. We made 64 posts on Instagram (not including stories) in the 2022-23 period, including photos from our community participation in Wiki Loves Earth 2022, event announcements, and photos from around Australia from Wikimedia Commons.
We used Twitter to share content and messages from our community, such as Wikipedia pages they'd created, questions they had, and just general tweets relevant to Wikimedia projects and open access. Our tweets gained 202,150 impressions and we were mentioned in 756 tweets too. Keep tagging us!
We also restarted our YouTube channel in October 2022, began sharing recordings of community meetings, uploaded the ESEAP and WOW conferences, and tips on using Wikipedia. Between October 2022 and the end of June 2023, we gained 26 new followers, uploaded 38 videos, and had 2,047 views for all of our videos.
Finally, we restarted our Announce mailing list as a monthly newsletter. Currently we send out a fortnightly newsletter to our members, but the monthly newsletter is open to everyone and gives a general overview of our activities. It currently has 450 subscribers.
Comparing 2021-22 and 2022-23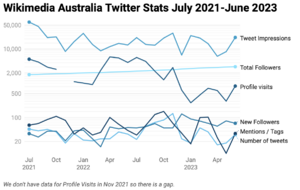 All of our social media accounts have continued to grow new members. Although many of our Twitter friends discussed shifting to Mastodon or other services, Twitter has remained incredibly active. We set a target of reaching 3000 Twitter followers by July 2023, and reached 3,057 as our audience has continued to grow there.
We did start a Mastodon account in May 2023, but have seen only minor growth for this account. There's also less metric data available to us, so it's unclear whether people are seeing our posts but not interacting with them in the same way they do on Twitter. Still, we are optimistic that a replacement for Twitter will rise, and will continue to experiment with new services as they are embraced by our community.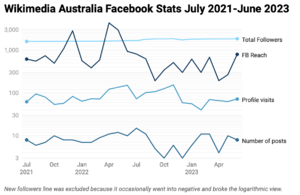 We had originally set a target of reaching 3000 Facebook followers by July 2023, but unfortunately only reached 1839. Facebook tends to have sporadic engagement, and is overall inconsistent. We continue to share events and posts to Facebook, but it's not clear whether this content is reaching those outside of our direct community.
We had also set a target of reaching 1000 Instagram followers by July 2023, but only reached 326. We've found engagement to be low there, with likes rarely over 10 per post.
We've also begun posting more to LinkedIn, after several people who attended our events highlighted this as their place to get updates over Facebook and other services.
Looking ahead to 2025
We are currently in the process of updating our Communications Strategy and hope to have that finalised soon.
The past year's stats show we haven't always met our goals in terms of followers. Our goals for Facebook and Instagram will need to be adjusted, and even though we exceeded our goal for Twitter followers, we are aware many users from Wikimedia projects have moved away or are less active there.
We will continue to share content across all of our platforms, and will embrace new ones as they emerge.
The popularity of our videos on YouTube has highlighted the need for short high-quality tutorials for people to use after attending our events. We will continue to develop these, with more coming soon, and we hope others will follow.
While we enjoy creating content, we also aim to use our platforms to support our community members and share their content with us. Please tag us or let us know what you're working on so we can let all of our followers know!
Follow us on: Twitter, Instagram, Facebook, LinkedIn, YouTube, and Mastodon.