University of Divinity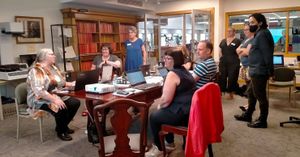 Less than 20% of entries on Wikipedia are about women and less than 10% of editors are women. The 1000 Women in Religion Project is a major initiative of the Women's Caucus of the American Academy of Religion, aiming to address the gender imbalance one article and one edit at a time.
Wikimedia Australia is partnering with the University of Divinity on the Australian Women in Religion Project being spearheaded by Kerrie Burn. She has been tirelessly collecting, sorting and uploading data, as well as editing and creating articles about Australian women. The project so far has developed 39 articles, with an average of four extra now being created every week. The goal is to create 100 new articles this year, from the current list of approximately 450 historical and contemporary women.
As part of this work, Wikimedia Australia supported University of Divinity to host a Wikipedian in Residence to add content to Wikipedia, Wikidata, Wikimedia Commons, and Wikisource, as part of our Partner Projects in 2023.
Related Links: