Using Mix'n'Match to make connections on Wikidata
An easy to use tool for the whole community
, James Gaunt.

Wikidata is a database of information which can be used to support Wikipedia, Wikimedia Commons, and other Wiki projects.
The project was started in 2012 aiming to create datasets which can be read by humans and machines. The amount of data included has grown substantially since its inception, and it's even used by Apple's Siri and Amazon's Alexa virtual assistants.
While Wikidata has many uses, it can be particularly useful when creating biographical articles on Wikipedia.
Let's look at this article on the Australian pianist and composer William G.James.
At the bottom of the article there is a box titled Authority Control with links to galleries, libraries, and various sources which have information on William G. James.
The information in this box has been collected thanks to Wikidata, and we can see how this looks on William's Wikidata page.
His page features several boxes showing various sources his data has been collected from such as the Australian Dictionary of Biography ID, Discogs, and Worldcat.
But how does this information make its way to Wikidata?
Often the information will be online already and will just need to be linked to Wikidata.
One way this can be done is for users to nominate websites and databases to include, and this information is then put through a tool called Mix'n'match.
Recently a contributor added a database of composers from the Australian Music Centre, and Mix'n'match looked through Wikidata to see if any of the composer's names are already in its database.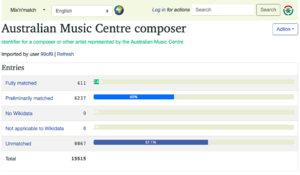 Once it's performed this check it makes the results available for everyone to see:
Fully matched = a user has matched the catalogue entry to a Wikidata item
Preliminary match = the system has found possible matches in Wikidata
N/A = this entry isn't relevant to Wikidata
Unmatched = the entry hasn't been matched yet
Currently the Australian Music Centre composer list has 6272 preliminary matches. While some of these might be correct, they need a human to double check them.
On the Preliminary list, if an item is wrong, click 'Remove' and it will be sent to the Unmatched list.
Clicking 'Confirm' will link the source and the suggested Wikidata page.
William G.James was part of this list, with his data from the Australian Music Centre now linked with his Wikidata page.
This will allow future editors to easily find information and double check it without looking too far. As long as the sources don't change their website structure, which will create a dead link that will need to be fixed.
Of course, Wikidata is much more than Mix'n'match, but this is one way to easily add new data and create collections of information for use across Wikimedia projects.