Wikimedia Australia and First Nations Metadata: ATSILIRN Protocols for Description and Access
A discussion paper by Kirsten Thorpe, Nathan Sentance, and Lauren Booker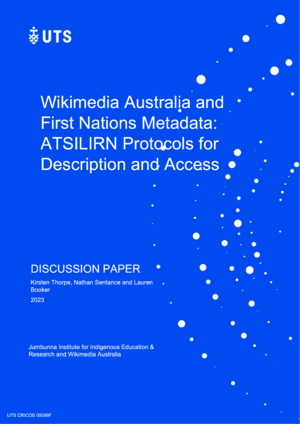 Today a new discussion paper was released to help understand how the Wikimedia movement could better support First Nations content, data, and contributors on Wikimedia platforms and beyond.
Wikimedia Australia and First Nations Metadata: ATSILIRN Protocols for Description and Access was funded by Wikimedia Australia and undertaken by the Jumbunna Institute for Indigenous Education & Research (JIIER).
Authors Kirsten Thorpe, Nathan Sentance, and Lauren Booker from JIIER looked at questions on the topic of First Nations Metadata, the Aboriginal and Torres Strait Islander Protocols for Libraries, Archives and Information Service, and projects supported by Wikimedia Australia.
The paper explores opportunities for Wikimedia Australia to promote deeper engagement between First Nations communities and Wikimedia projects like Wikipedia, Wikimedia Commons, and Wikidata.
It includes several reflections and recommendations for Wikimedia Australia, but we hope the wider community can also learn and begin further discussions around what is presented in this paper.
Download and read the discussion paper from OPUS at UTS.
This discussion paper is distributed under the Creative Commons Attribution ShareAlike 4.0 International License
Senior Researcher/Indigenous Archives and Data Stewardship Hub Kirsten Thorpe
Dr Kirsten Thorpe (Worimi, Port Stephens) is a Senior Researcher at Jumbunna Institute for Indigenous Education & Research, University of Technology Sydney (UTS). Kirsten leads the Indigenous Archives and Data Stewardship Hub, which advocates for Indigenous rights in archives and data and develops research and engagement in relation to refiguring libraries and archives to support the culturally appropriate ownership, management and ongoing preservation of Indigenous knowledges. Kirsten has broad interests in research and engagement with Indigenous protocols and decolonising practices in the library and archive fields, and the broader GLAM sector. Kirsten advocates for the 'right of reply' to records and capacity building and support for the development of Living Indigenous Archives on Country.
Research consultant Nathan Sentence
Nathan "Mudyi" Sentance is a Wiradjuri man from the Mowgee clan, who grew up on Darkinjung Country, NSW. Nathan works to ensure that First Nations stories being told cultural and memory institutions, such galleries, libraries, archives, and museums are being told and controlled by First Nations people.
Research Fellow/Indigenous Archives and Data Stewardship Hub Lauren Booker
Lauren Booker (Garigal) is a Research Fellow at Jumbunna Institute for Indigenous Education and Research, UTS. Her work in the Indigenous Archive and Data Stewardship Hub is focused on facilitating archive-based projects to increase the accessibility of institutionally held cultural material collections for communities, and skill sharing of digitisation processes to enable onCountry archiving. Lauren has been involved in supporting language and cultural revitalisation projects across the museums and archives and the organisation of appropriate digital archives, as well as working in consultation with the public library network in regard to community consultation and language documentation.