Franklin Women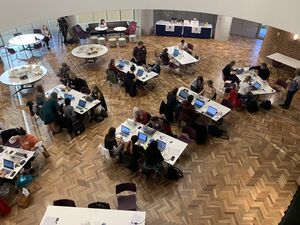 Would you believe that the 5th most visited website in the world, Wikipedia, has a serious gender bias? Only 17% of the people profiled on Wikipedia are women. Not only does this mean that many talented women (and their work) are not getting the recognition they deserve, but it also critically skews perceptions about the contributions that women make to many different endeavours. This is no doubt influenced by the fact that only 8-16% of the people who actively contribute content to Wikipedia identify as women.
Franklin Women joined with Wikimedia Australia on Thursday 25th July 2019 to make the internet just that little bit better. Their aim was to increase the visibility on Wikipedia of women who have made important contributions to the health and medical research sector, as well as increase the number of women who have the skills to become Wikipedia editors.
Attended by 30 editors, together they learnt to edit Wikipedia and created 21 new articles!
Events
Media
Reports
Related links