Craig Franklin Award 2023
Announcing the inaugural Craig Franklin Award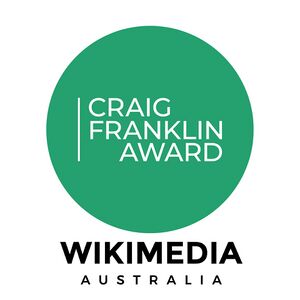 Wikimedia Australia is pleased to announce the winner of the inaugural Craig Franklin Award recognising positive impact on the Wikimedia movement in Australia.
This award honours Craig Franklin, a generous and prolific Australian Wikipedian and founding member of Wikimedia Australia, who died in 2018.
The inaugural Craig Franklin Award goes to Franklin Women, for their work increasing the online representation of women working in health and medical research by improving Wikipedia.
After recognising the gender imbalance present on Wikipedia, where only 19% of biographies are about women, Franklin Women ran events to provide women with the knowledge and skills to edit Wikipedia.
Participants at their events created 51 new Wikipedia pages and updated or improved a further 110.
This year, Franklin Women launched More Than a Day, a series of video tutorials that have empowered people around the world to edit Wikipedia.
The videos have been watched over 2,000 times and have become an important resource for beginner editors everywhere.
Franklin Women founder Dr Melina Georgousakis accepted the award on Sunday 6 August 2023 and thanked the Wikimedia community for their support.
"Receiving this recognition from Wikipedia Australia through the inaugural Craig Franklin award is an absolute honour."
"The Franklin Women team were absolute beginners when it came to editing Wikipedia when we first embarked on our journey 4 years ago to increase the representation of Women In STEMM and their contributions to society on the online encyclopedia."
"It is so rewarding to look back now and see what we have achieved, two Wikipedia edit-a-thons, 100,000+ words of notability added for women in our sector, a practical and accessible online tutorial with 10 chapters on editing Wikipedia and many more women with Wikipedia editing skills. None of this would have happened without the support of the Wikimedia community every step of the way"
Wikimedia Australia President Amanda Lawrence commended Franklin Women for their work.
"It's through the work of organisations like Franklin Women that we meet new communities we otherwise might not be able to engage with."
"The projects run by Franklin Women have made fantastic achievements, and we'd like to thank them for their work introducing women to editing Wikipedia."

Craig Franklin Award
This award honours Craig Franklin, a generous and prolific Australian Wikipedian, who died in 2018. A founding member of Wikimedia Australia, Craig was a passionate advocate for volunteer and community-control of Wikimedia platforms. A business analyst and freelance music journalist by day, Craig began editing in 2004, working on the Irish (Gaelic) language Wikipedia and then English Wikipedia, where he quickly became an administrator. He participated on many committees, including on the Wikimedia Australia board as President and Treasurer. Watch the 2023 Craig Franklin Award ceremony here.
Franklin Women
Franklin Women are an Australian professional community dedicated to supporting the careers of women working across the health and medical research ecosystem. They joined with Wikimedia Australia in 2019 to host their first edit-a-thon that saw new articles created about Women in STEMM. Since then, they have run additional events and in 2023 released More Than a Day, a series of videos to empower women everywhere to edit Wikipedia. Read more about Franklin Women's Wikipedia events here.