Meeting
:
2011 AGM/Melbourne
The 2011 AGM on Sunday, 9th October, will be linked to from a meetup at ComputerBank, 483 Victoria Street, West Melbourne. See map on http://www.computerbank.org.au/contact. The meetup will start at 3.00 p.m. as a social get together and discussion on matters related to wikipedia and Wikimedia Australia Inc. The AGM will commence at 4.00 p.m.
We will be providing food (quiche, pizza, cakes) and beverages (tea, coffee, soft drinks) for the get together so please let us know in advance if you plan to attend.
Participants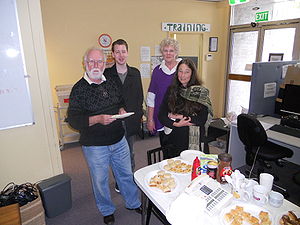 Bduke 12:12, 26 August 2011 (EST)
Anne, 17:19, 26 August 2011 (EST)
Steven Zhang 21:22, 23 September 2011 (EST)
Photo is of the participants at the WMAU 2011 AGM Meetup - Bduke, Steven Zhang, Anne with Kylie Davies from ComputerBank, from the left.