Where's The Source
Library & Information Week 2023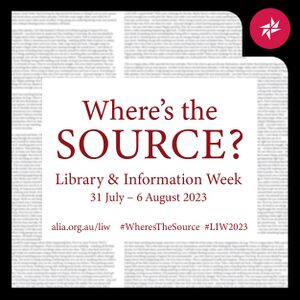 This year's Library & Information Week is about understanding information sources, something that is also important on Wikipedia.
Wikimedia Australia have partnered with ALIA to run three events demonstrating how sources are crucial to keeping Wikipedia reliable.
Wikipedia is one of the most popular websites in the world. It's often the top result when searching for something online, making it a highly relied upon information source.
Libraries and librarians are also a fantastic source of information and they even contribute to Wikipedia through annual events like 1Lib1Ref to add more references so Wikipedia remains accurate.
Mythbusting Wikipedia: Misinformation, AI, and Volunteers
On Tuesday 1 August, join us for this free online event to learn how reliable Wikipedia is, how it's being used in classrooms, and how it can help people understand referencing, misinformation, and the need for reliable sources.
Information from Wikipedia is used by search engines like Google, and AI chatbots like Chat GPT, and you'll see how easy it is to edit Wikipedia yourself to make sure this information remains correct.
This free event will be held online Tuesday 1 August 1:00 pm – 2:00 pm AEST. Bookings available here.
Wikipedia Edit-a-thons
Are you curious about how to edit Wikipedia? Why not learn how in these two in-person events!
As part of Library and Information Week, Frankston City Libraries and Campbelltown Public Library are hosting hands-on sessions to get you started editing Wikipedia. You'll learn how to edit and add your own references to pages, all while having an expert from Wikimedia Australia on hand to answer your questions.
Both events are free and bookings are essential:
Frankston Library - Wednesday 2 August, 11:00 am – 1:00 pm AEST. This event has been cancelled.
Campbelltown Public Library - Thursday 3 August, 10:00 am – 12:00 pm ACST. Bookings available here.
More Library & Information Week & Wikimedia Events
We're also hosting our Introducing: Wikipedia - Workshop and Drop In Sessions online Thursday 3 August where you can learn how to edit Wikipedia, or drop in for for a chat to ask any questions. Full times and details here.
ALIA are also running a series of events this Library & Information Week across Australia. View the full program of events here.