Ongoing and Past Partnerships

Wikimedia Australia works with a wide range of organisations across Australia. Partnerships have included edit-a-thons and training, both in person and online, and our Wikimedian in Resident program. Read more about the Wikimedia Resident and Scholar Program here.
If you're interested in discussing a partnership opportunity contact us anytime at: contact@wikimedia.org.au
Ongoing and Past Partnerships
ARC Centre of Excellence for Automated Decision-Making and Society
A new Wikipedian in Residence program at ADM+S started in 2021 to improve Wikipedia articles related to automation technologies, and run events. Read more here.
Australian Academy of Science
In August 2014, to celebrate National Science Week, the Academy held their first "Wikibomb". Over 140 people registered to help us increase the presence of Australian women of science, engineering, and mathematics on Wikipedia. Through online and physical events in Canberra, Melbourne, Adelaide and Perth, participants created 118 new pages. Read more on Wikipedia here.
Australia Council for the Arts
Since 2021, the Australia Council for the Arts has partnered with us on The Record: Australian Music On Wikipedia, a project to increase the number of Wikipedia articles about Australian music. Other partners of The Record include Australian Music Vault, Australian Music Centre, Country Music Association of Australia, and APRA AMCOS. Read more here.
Australian Performing Arts Collection (APAC)
After partnering with us on The Record, APAC hosted a 10 week Wikimedian In Residence, allowing access to their collections and Australian Music Vault exhibition space. Read more here.
Australian Society of Archivists (ASA)
Wikimedian in Residence Andy Mabbett presented at the ASA 2018 conference about Wikimedia projects on five continents. Watch the full presentation here.
Australian Library and Information Association (ALIA)
We have assisted with librarian training and workshops and in 2014 presented "Wikipedia and Libraries" around Australia. Read more here.
City of Canning
With the City of Canning, Wikimedia Australia and its WA branch WikiClubWest, gave a series of introduction sessions to Wikipedia and digitisation of materials in 2019. Read more here on Wikipedia.
City of Fremantle
The Freopedia QRpedia project was set up in 2012 in collaboration with the Fremantle Society and the Fremantle Business Improvement District (BID).
City of Sydney
We run regular themed edit-a-thons at the City of Sydney libraries aim to address bias and grow diversity on Wikipedia. Read more here.
Franklin Women
A partnership to deliver an annual women in medical sciences edit-a-thon. Read more here.
GLAM Peak
Wikimedia Australia was a technology partner for the 2017-2018 GLAM Peak regional Digital Access to Collections workshops. See also: GLAM Peak activity reports
Inspiring SA
Wikimedia Australia and Inspring SA ran training sessions in Adelaide to improve local Wikipedia content about STEMM (science, technology, engineering, maths and medicine). Read more here.
Museum of Perth
Between 2018-19, Museum of Perth hosted a Wikipedian in Residence and projects including writing Wikipedia articles about current and historic Western Australian newspapers. Read more here on Wikipedia GLAM.
National Gallery of Australia
As part of the Know My Name initiative, this partnership has to increased the number of Wikipedia pages about female artists as part of a joint gender equity campaign. Read more here.
National Library of Australia & Trove
We have run editathons and training with National Library of Australia, including a session to create Wikipedia pages about the archived newspapers available in Trove in 2013. Between 2018-2020, Wikimedia Australia was represented on the Trove Consultative Committee by President, Pru Mitchell.
Since 2020, Wikimedia Australia has supported the Know My Name project, co-hosting editathons to create new Wikipedia articles on female artists and creators. Read more about Know My Name here.
Open Access Australasia
Celebrating Open Access with annual events since 2021. Read more here.
Paralympics Australia
The Paralympic history project is creating articles about Paralympic sport generally and the Paralympic movement in Australia. Read more:
Seniors Recreation Council of WA
In 2019, The Seniors Recreation Council of WA held their Be Connected Seniors Tech Expo, a 'Tech Savvy Seniors' event, which Wikimedia Australia had a table. Later that year we attended Have a Go Day to engage with more people. Read the Be Connected report here.
Shire of Toodyay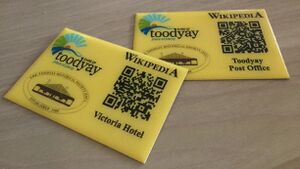 Toodyaypedia WikiTown project involved creating articles and placing QR codes on landmarks in the Western Australian town, in collaboration with the Toodyay Historical Society. In 2014, seven Wikimedians travelled by bus from Perth to Toodyay to prepare for WikiTown Toodyay. Read an account of their work here. The project was Australia's Cool Project presented at Wikimania 2014.
In 2019, Toodyaypedia Stage 3 celebration was held after the completion of 14 new Wikipedia articles about West Toodyay sites
State Library New South Wales
SLNSW was the first institution to host a Wikipedian In Residence in Australia in 2013. Since then we have partnered on #1Lib1Ref, Wikimedia seminars, and more. The library have also noted SLNSW content on Wikipedia and Wikimedia Commons led to increased traffic to their website. Read more here.
State Library of Queensland
Since 2010 SLQ have hosted regular Wikipedia events, including #1Lib1Ref, and donated thousands of images to Wikimedia Commons. Read more here.
State Library of Western Australia
The State Library of Western Australia has regularly hosted WikiClub West, hosting workshops and giving Wikimedians a space to run their activities. Read more about WikiClub West at the State Library here.
State Records Office, Western Australia (SROWA)
The SROWA assisted with the Freopedia QRpedia project, with support from their staff and records access. This included the release of a number of maps under a CC-by-SA license allowing them to be uploaded to Wikimedia Commons, and their staff also provided other records from their collections. Read more:
University of Divinity
Wikimedia Australia has partnered with the University of Divinity on the Australian Women in Religion Project being spearheaded by Kerrie Burn. The project aims to create 100 new articles on Women in Religion. Read more here.
The University of NSW
UNSW Electrical Engineering and Telecommunications have partnered with us to deliver an annual Women in STEM edit-a-thon. Read more here.
The University of Sydney
Since 2018, University of Sydney students have contributed to Wikipedia as part of their Writing for the Digital World studies. Read more here.
In 2019 and 2022 University of Sydney hosted Worlds of Wikimedia, a Wikimedia conference featuring presentations relating to academic work around Wikipedia and other Wikimedia projects. Read about 2019 here, and 2022 here.
The University of WA
A project addressing colonial legacy impact in rock art content on Wikipedia and beyond. Includes the Noongar Wikitionary and Noongar Wikipedia projects. Read more here.
Wikiclub NT
Running from 2016-18, Wikiclub NT saw editors travel around Australia's Northern Territory adding NT history online. Read more here.
Women's Art Register
We have partnered on regular Art+Feminism edit-a-thons to improve content on women artists and creators. Read more here.
Women Write Wiki
A monthly women's editing group at Newtown Women's Library who meet to improve the representation of Australian and Pacific women writers on Wikipedia. Read more here.
Western Australia
Digitisation project
Yarra Plenty Regional Library
Yarra Plenty Regional Library have taken part in 1Lib1Ref during 2019 and 2020. Read the 1Lib1Ref 2019 & 2020 Report here. In 2022 they took part in a Art+Feminism edit-a-thon for International Women's Day where they created 35 new pages. See the Dashboard here.
See Also: Past Events
See Past events for a full list of events previously run in partnership with Wikimedia Australia.